Before we get into the future of the young second baseman, let's dive into the past.
Kolten Wong was selected in the 1st round, (22nd overall), of the 2011 Amateur draft by the St. Louis Cardinals. He was selected after some big names such as Gerrit Cole, Anthony Rendon, Francisco Lindor, Jose Fernandez, and Sonny Gray. He was however taken before the Giants young slugger, Joe Panik. The way I see it, the Cardinals we're going to draft a second baseman no matter what and decided between Panik, and Wong. But they decided they liked the pop in Wong's bat, so went with him.
After being drafted in the first round, Wong was sent to A ball. Through 194 at bats, Wong produced the following slash line:
Shockingly, the Cardinals were very pleased with this. They then proceeded to start him in Springfield in 2012. After playing a full season in AA, he seemed to have taken a bit of a step down, though it was nothing of concern. You still have to take into consideration that he was only 21 at the time. With their high expectations for wong, the Cardinals decided to send him into the Arizona Fall League, where he batted .324 and hit 3 extra base hits in 74 at bats.
Wong then took another big step forward. He started 2013 at Memphis at the age of 22. Wong exceeded many expectations and earned himself a spot on the Cardinals roster, replacing Adron Chambers. Through his first 59 at bats at the major league level, he produced the following slash line:
But this was of no concern. Cardinals were not expecting him to come up and take the major leagues by storm, they were just preparing himself for 2014, where he would be assigned the job of starting second baseman. But during that 2013 playoff run, things got a little ugly.
Sorry to bring back memories. I know, it still hurts me too. In case, you are unaware of what that is, that's Wong being picked off of first base to make the final out of Game 4 of the 2013 World Series. Just to put a little salt in the wound, the tying run was at the plate, and it was none other than Carlos Beltran. I imagine it was a little awkward in the clubhouse after that. Anyways, the Cardinals offense seemed to go silent after that, which led to the Red Sox winning the world series. (Sorry, that's not what this post is about).
Anyways, going into 2014, Wong may have had a bit of a chip on his shoulder. He didn't lose the World Series for the Cardinals, but someone had to be a scapegoat, and he fit the bill.
Through the 2014 season Wong had his up's and down's, just like every player does. But let's show some cool shit he did.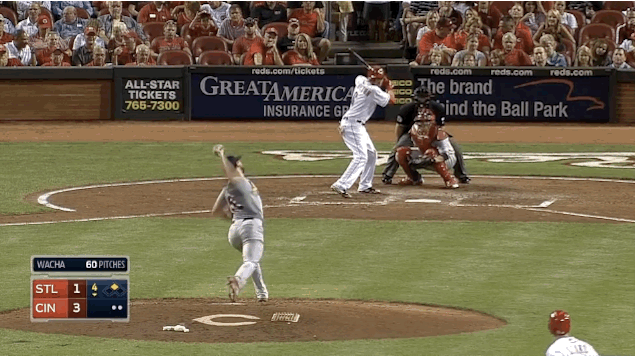 Some nice catches.
Oh just an NLDS 2 run bomb to put the Cardinals in front.
Nice middle finger to the Red Sox. Yeah, some more Postseason Redemption.
Can I get an amen?
Now to pick up where I left off.
Wong was then nominated as 3rd in the Rookie of the Year race behind Jacob deGrom and Billy Hamilton. But I think we we're all more than happy to see that. It was just a turn around year for him, he went from scape goat to hero, and we all loved him for it.
But the issue then became offense, which the Cardinals had been lacking since 2013. Kolten Wong isn't the issue, he's not helping anything either. There is a lot of speculation that has been stirring up after his 2015 campaign. Some of it may have been from Wong just being worn out, but there is still some stats for us to look at.
Lets compare his 2014 and 2015 slash lines:
2014:
This was with 433 Plate appearences.
2015:
This was with 613 Plate appearences
In 2015, Wong had 180 more plate appearances than in 2014. But even with the increase in plate appearences, many of his numbers got worse. He hit 1, I KNOW 1, less home run. But he also struck out about 3 times more than he walked. His Isolated power went down from .139 to .124. He also made 17 errors at 2nd. None of this is really of huge concern, but the Cardinals need offense, and now we have the Cubs at our back door. So, many people have been exploring a trade for a power 3rd baseman, and then putting Carpenter back over at 2nd.
I really don't know if this is the right move, because you never know what kind of player Wong could turn into. He could get better, but he could get worse and lose a lot of trade value next year. I have heard a lot of trade rumors as well. I've heard names pop up such as Evan Longoria, Adrian Beltre, Kyle Seager, Todd Frazier, and a few more. But unfortunately, the ship has sailed on a few of those players, because Wong lost value this year. Worst of all, if he doesn't have a much better campaign/breakout year, this could be his last year in a Cardinal uniform. The Cardinals need him to become the player that he is more than capable of being. But they won't wait around forever for him to reach his full potential. You can ask Shelby Miller that.
Thanks for reading,
Jackson_Bailey