Baseball is a fickle game, much like life. You can put forth as much effort as the opposition, and still come up short. Sometimes you luck into things, sometimes opportunity never arises. It is frustrating, and sometimes things don't make sense. The Cardinals are a good team on paper, but things are not working out for them.
Everyone loves the long ball, and that seems to be the most obvious way of differentiating the bluebirds from the redbirds tonight. The Blue Jays benefited from 2 solo home runs, which may not have been very opportune in an efficiency sense... but did put 2 more runs on the board, which was the difference in the game.
This was by no means a captivating game. And on a Friday night it was even more noticeable, as one could be out doing a plethora of different things. But as a diehard fan, I have no problem with this. Even if I were out I'd watch the game anyway when I got home.
What a goofy line this game had, a triple play but 2 errors by the Cardinals. The Blue Jays left even more men on base than the Cardinals, yet still won. Lance Lynn was not "on" tonight.... nor was he bad. His 2 seam fastball averaged 92.6 mph, and his 4 seam 93.7, which topped out at 96.1 mph. He relied heavily on that pitch tonight, throwing it 58 times.
Lance's main problem was the first inning, throwing only 46% of his pitches for strikes. As per Aaron's request, here is a look at Lynn's movement on his pitches... and here's the full page.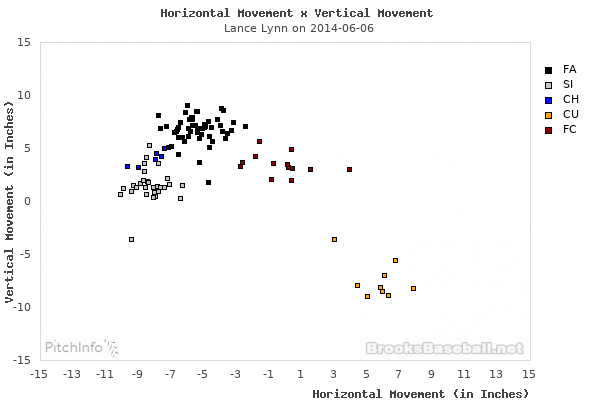 The problem tonight wasn't really with pitching though, it was with hitting. Only Allen Craig had more than one hit, and they did not piece together their 7 hits to score runs. Maybe it was bad luck, but whatever it was, it didn't work. Taveras, Craig, and Molina all could be culpable culprits in anti-clutchness.
The memorable highlight of this game was the triple play turned in the sixth inning with ground into double play specialist Seth Maness on the mound. I guess he has upped his game now! This was the first triple play the Cardinals have turned since 5/5/05. (video here)
Here is a list of all triple plays. What I learned from looking at that was that there seemed to be a drought of triple plays recently. Most years there is at least one... 2013 had none from what I can tell... and this was the first of 2014. You have to go back to 1974 to see another triple play drought.... and 1961 before that. Most years there's at least one. Only 3 years had no triple plays ('61, '74, '13).
The Cubs and Giants have turned the most triple plays in baseball history, and the Braves and Cardinals are not far behind. The NL seems to turn a lot more than the AL. The Reds are the unluckiest team, having the most triple plays against them vs turned (except for the Philadelphia Athletics, who were unusually snakebitten in this dept).
And here is a list of where all the triple plays have went down over the years.
WPA

Source: FanGraphs
There's our rather pedestrian WPA chart for the night. Blue Jays relief pitcher Dustin McGowan was the king of WPA tonight, throwing a blanket on any kind of fire the Cardinals were to muster... which is sort of funny because he is not very good at pitching. The pretty excellent performance of Blue Jays starting pitcher Marcus Stroman added the 2nd most win probability, and he is actually pretty good, probably (although his ERA sucks).
Jose Reyes and Brett Lawrie were most favored by WPA in tonight's game. In the end, the trifecta of Oscar Taveras, Yadier Molina, and Allen Craig's non-performance in key situations spelled DOOM for the Cards tonight.
The next game will occur 7 minutes after noon on Saturday June 7th, 2014. Shelby Miller will face off against the winning ways of Mark Buehrle. My diagnosis is this: the Cardinals better start hitting more home runs, and show Buerhle who's boss.
On a musical note, the announcers pointed out this guy who was in the audience tonight in wonderful Toronto. Which sparked interest in Rush in the gamethread: both LeeVing45 and I spun the masterpiece of prog rock known as 'Hemispheres'. I'm guessing if you were born in the 70's you might like that album.
This is one of the greatest pieces of music ever composed by anyone... and here are the lyrics to this 28+ minute opus if you care to read them. It's about balance...