carpenter glavine
0-0, 0.00 0-0, 0.00
It's back! The wonderful machine is back from this day to late October! Tis' the season for advancing runners, bad hops, excuse me swings, jacks, junk, heat and whiffs. It's time to start tallying hits, total bases, earned runs and wins and losses. It's time to quit looking at PECOTA projections and Diamond Mind sims and start calculating win shares, win probability added and OPS. Hallelujah.
So much has already been said about this upcoming season, projections and pundits all have their 2 cents about the Cardinals and the upcoming season, some positive, some not so positive. Y'all have heard it already, I don't really have much to add in that line. Yesterday Larry posted that beautiful Gameday shot of strike three and some of the reaction at VEB as a little retrospect, I thought since we're playing the Mets it would be fitting to celebrate for one last time Game 7 of last year's NLCS, the greatest chapter ever written in the Mets-Cardinals rivalry with the help of Win Probability. As many of you may know, I'm a big fan of win probability, it's great way to quantify what happens in a game and how it effect the team's probability of a win. And when the win expectancy greatly shifts, it just provides all the more narrative on what that team did to defy the odds. And defying the odds would certainly be what typified the 2006 postseason run more then anything.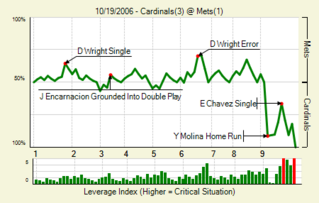 WPA chart courtesy of fangraphs.com
While there was a lot going on in that game (including a brilliantly pitched game by Jeff Suppan and Oliver Perez, who had +28.8% and +26.2% WPA's, respectively) the game can be summed up by three unforgettable moments as summed up in the recently removed
YouTube video
, Claymation Cards. (When MLB says you can't do accounts or descriptions of the game without express written consent, apparently that applies to clay, too. Jerks.) Here are those three moments:
-Endy's magical snare, who then doubled off Jimmy. That one grab was worth 36.1% of a Mets victory. Had the ball cleared the wall, the Cards win expectancy would've been 75%. The fact that he picked it and doubled Jimmy gives him that much credit. Here's some of the game thread dialog going on at that time, optimism was not abounding much then.
"Unbelievable...They will win this game now."
"Great, another flyout for Rolen"
"Wow just... wow. i just died a little"
"Tragic on so many levels. Don't blow it now."
Me, I just remember thinking the baseball gods were against us.

-
The next big event:
Yadier Molina's, 2 run shot off of Heilman. In the top of the 9th made the Cardinals' win probability go up from 49.9% to 91.4%. Some of the response here on the gamethread:
"OH MY MOLINA!"
"Endy Chavez won't catch that ONE!!!!!!!"
"I'm so happy, I just kissed my dog on the lips!"
Me, I talked the ball out of the stadium, fell to the ground and started doing snow angels in my carpet.

-
The last big event:
The Wagonmaker strikes out Beltran with the bases loaded! +18% WPA with a leverage index of a game high 7.05.
"IT'S OVER! IT'S OVER! WORLD SERIES BABY!!!"
"DEAR GOD AW THAT WAS SCARY MY HEART RATE IS THROUGH THE ROOF"
""Somewhere...John Francis Buck is smiling."
And that's just pure baseball, my friends. And now we the drama starts all over again. Whether it leads to that sort of joy in October, or whether we as Cardinal fans are on the outside looking in at that time is not in our hands. But I'm definitely going to enjoy the ride, wherever it takes us this time.
It's starts tonight, enjoy watching the boys get their rings in front of the also-rans. Play ball.