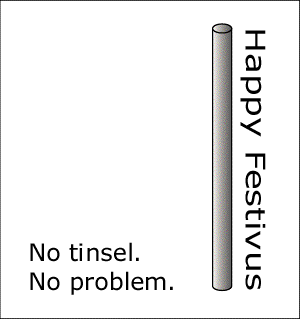 It's December 23rd, and you know what that means. Today is Festivus! A Festivus for the the rest of us! Be sure to gather around the Festivus Pole, enjoy a meal with your family and be sure to air your grievances. Remember, Festivus is not over until you pin your old man.
After the last 2 Festivuses, I expect some sort of deal to go down today to keep with the tradition of Festivus Miracles. This day last year, the Cardinals signed Junior Spivey and Juan Encarnacion. Festivus '04 they signed David Eckstein. (And if you go back even further, on Dec. 23rd '95 the Cards finalized deals for Ron Gant and Andy Benes.) What will happen this year? Well, right now it looks like the only thing that might get done is a Mark Mulder signing. Mulder reportedly is down to the Cardinals and Rangers, and if he's looking for a 2 year deal so he can get back to form and boost his stock, then Texas just isn't the right place for him.
Brian Lawrence, a forgotten name by everyone but Liam, recently had an open throwing session which scouts from several teams attended, including a scout from the Cardinals. In a world gone nuts for average pitching, Lawrence could be a steal if his shoulder is sound. Lawrence is a junkballer, his fastball tops out at 84, but he relies heavily on location with his sinker/slider combo and a deceptive delivery. He's like the Eckstein of pitching, he doesn't look like anything, but frustrates hitters with his mix of locations and off-speed junk, making them look like fools. In his past 4 seasons he averaged 200 innings per and his career ERA is 4.10. He missed last season due to a torn labrum, which of course is never a good thing.
And now for the Airing of Grievances. I can't complain against the team, winning the World Series does a lot to heal the woes suffered from a poor regular season. My grievance is against the Cardinal organization for jumping another ship, going to KSDK from KPLR this winter and slashing the amount of free games in half, moving them to Fox Sports Midwest. I can't get Fox Sports Midwest where I live, so it's really cutting into the amount of televised games I get. But besides all that, what about the fan who can't afford cable who lives right in St. Louis? I realize that sports just in general is moving to dish and cable, but I'm getting sick of all the freebies being taken away.
Keeping with the Festivus theme, it's now time for the Feats of Strength. No, not wrestling your dear ol' dad to the ground, we'll keep this baseball related. If you haven't checked out the Hit Tracker, it's pretty cool stuff. They've tracked down the distance of all the homeruns the past 2 seasons. So who hit the longest HR in the new stadium? Albert Pujols. Who else could it have been? The longest bomb in the new Busch came on Albert's Easter Sunday Extragavanza against the Reds, where his walk off homerun went a whopping 455 feet! But Albert's longest homerun of the year actually came on the road against the Diamondbacks, 9/10, when he hit a monster blast 459 feet down the left field line. Hit Tracker also measure speed of the bat, and Albert had the fastest homerun to leave the yard of any Cardinal in 06, hitting a 121 mph screamer in Kansas City. But Hit Tracker's 'Golden Sledgehammer' award for a Cardinal player goes to Chris Duncan. His 22 homers averaged a distance of 396 feet, and included a 451 footer in Dodger Stadium off of Brad Penny on 7/26. So yeah, Dunc's power just might be for real. Now who would win in a wrestling match, Duncan or Pujols? Or for that matter, Dave verses Chris? Enjoy your Festivus everyone!