Say the name "Simmons" to any St. Louis Cardinal fan, especially one under the age of 50, and they will almost certainly recall the long-maned slugging catcher of the 1970s, Ted. Curt Simmons is the largely forgotten Simmons.
Which is a shame because his accomplishments entitle him to a higher profile with the Redbird faithful. He ranks 26th all time in Cardinal wins with 69, ahead of luminaries such as Joaquin Andujar, Bob Tewksbury, John Tudor, and Grover Cleveland Alexander. For career Fangraphs WAR, he ranks 17th among hurlers with 22.4 - accumulated over just five full seasons and parts of two others.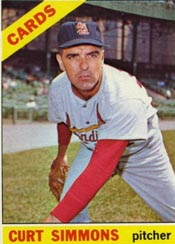 During the 1964 campaign which culminated in a World Series championship, Simmons (18-9, 3.43 ERA) combined with Bob Gibson (19-12, 3.01 ) and Ray Sadecki (20-11, 3.68 ) to form a Big Three pitching triumvirate that combined to start 102 games.
As glossy as his resume is while wearing the Birds on the Bat, his career accomplishments with the Philadelphia Phillies are even loftier. He ranks 5th on the Phillies leader board in wins - trailing only a trio of Hall of Famers (Steve Carlton, Robin Roberts, and Alexander) and Chris Short. Simmons scuffled for the Phils in 1948 and 1949. "I should have been in the minors those two years, but because I was a "bonus baby" they had to keep me in the majors or risk losing me to another team," he told me. He had a breakout season in 1950 as did several other young players. The 1950 Whiz Kids featured Simmons, Roberts, Richie Ashburn, Granny Hamner, Willie Jones, and Del Ennis, all of whom were in their age 25 or younger season. Uncle Sam intervened, however, in early September. "The Phillies owner, Bob Carpenter, encouraged me to join the National Guard in 1948 or 1949. There was a peacetime draft and he didn't want me drafted. But the Korean War started and our unit got called up. There was nobody getting out of it." Simmons reported to Camp Atterbury in Indiana. The Phillies narrowly hung on to win the National League pennant. Simmons was granted a leave to attend the World Series. "But I'd been in basic training and hadn't had a chance to throw. Besides, I only got my leave a day before the Series and rosters had to be submitted three days before. I went and threw batting practice for the team. I guess they all joked that it was my fault that we got swept." (scoring only five runs in the four games)
Simmons missed the entire 1951 season due to military service but returned the next season and became a rotation stalwart until an elbow problem developed during Spring training in 1959. After elbow surgery and 10 rocky innings in the Phillies' bullpen, Simmons had a conversation with Phillies manager Eddie Sawyer. "They wanted me to go to Williamsport (AAA). I had to give my permission being a veteran. Sawyer said, 'We want you ready for 1960.' " The 1960 season got off to an inauspicious start in Philadelphia as Sawyer quit after the first game of the season due to interference from GM John Quinn. Simmons started Game 2 (the entire tenure of interim manager Andy Cohen) and was pulled after one plus inning. Simmons got the start in Game 7 a week later and failed to retire any of the five hitters he faced. Two rocky bullpen appearances followed and Simmons was released on May 17 - 16 days after his final appearance. "Solly (Hemus, the Cardinal manager) called me and asked if my arm was okay. I said, 'Yeah, the arm's great.' So Solly said, 'We want you to come to St. Louis and work out for us and if everything goes okay we'll sign you.' So I was making plans to go to St. Louis and the Cubs were in Philly and they called me and wanted me to work out for them. So I worked out for the Cubs at Shibe Park (the Phillies home stadium). Del Rice caught me and they said they'd get back to me. Meanwhile Solly calls my home to to talk with me about something or other and finds out from my wife I'm working out with the Cubs. Solly gets ahold of me in the visitor's clubhouse and said the Cardinals wanted to offer me a contract without having to work out. 'Bing (Devine, the Cardinals' GM) will call you to work out the contract.' That's how I became a Cardinal." Three days after being released by the Phillies, Simmons signed with St. Louis. Two days later, the lefty debuted with the Birds on the Bat and threw three shutout innings of relief.
Going into the 1964 season, the Cardinals had reason for optimism. 1963 had seen the Redbirds go on a 19-1 tear and pull to within a game of the eventual pennant-winning Dodgers in mid-September. Stan Musial had retired during the off-season, however. Did Simmons think 1964 was going to be the Cardinals' year ? "Who knows," he replied. "I actually thought we might be a run of the mill team."
St. Louis pulled the trigger on a trade with the Cubs in June, parting with starter Ernie Broglio and adding speedy outfielder Lou Brock. Simmons was not initially impressed. "He was just kind of ordinary. He could run and he was kind of strong but he was just a ballplayer. Somehow he just got in with the gang and started hitting."
On August 4, the Birds were 53-50 and eight games out. A strong stretch saw them go 11-7 but the deficit grew to 11 games on August 23. Simmons said, "We were looking to finish second. The Phillies had it won if they didn't screw it up." But the Phillies' rotation was collapsing. Future Cardinal Rick Wise lasted a TOTAL of 1/3 of an inning over two September starts. "Dennis Bennett had a bad arm and was getting smacked around," remembered Simmons. "Gene Mauch screwed it up. He panicked. He pitched (Jim) Bunning and (Chris) Short too much. You can't drain your best pitchers." The Phillies lost their final 10 games in September. Bunning and Short combined to start 13 of the final 20 games for Philadelphia.
By this time, both the Cards and Reds had passed the Phillies. St. Louis went into a season ending three game series against the cellar-dwelling Mets up 1 game on Cincinnati and 2.5 on the Phils. However, a pair of losses to the hapless Mets (53-109) allowed the Reds to pull even and Philly was just one game out. Since the Reds and Phils played each other the final game of the season, the Cards knew they had to win in order to assure the pennant.
Simmons drew the start in Game 162. "The wind was blowing out that day. Maxie (Dal Maxvill) was playing second because Hoolie (Julian Javier) was hurt. Shannon was in right. With one out a little pop fly goes up and Maxie's out to get it. But the wind gets it and Shannon can't get to it and it falls for a double. (Roy) McMillan doubles and they take me out and Gibson comes in in the fourth or fifth. (It happens in the 5th, with the Mets up 3-2). We score three in the bottom of the fifth and we went on to win. It was a three way tie if we lost, but we snuck in anyway."
Simmons drew the Game 3 start in the World Series against the New York Yankees. The teams had split a pair at Busch Memorial Stadium. The Yankees countered with Jim Bouton - a good pitcher at the time who became famous later as the author of Ball Four. "I pitched well. We're 1-1 into the ninth. I drove in our run by the way. (with a 5th inning single)." With two on and one out Manager Johnny Keane sends Bob Skinner up to hit for Simmons. "It was the right move. He hit the ball good." But Skinner's deep fly ball was caught. While Tim McCarver was able to advance to third, he was stranded when Curt Flood lined out to right. "I'm out after eight and Barney (Schultz) pitched to (Mickey) Mantle. I'm under the stands on the way to the clubhouse when I heard the roar and knew what happened. It was a knuckleball that didn't knuckle." Mantle had given the Yankees a 2-1 series lead with a walkoff home run.
St. Louis bounced back to win the next two games and Simmons took the bump back at Busch with a chance to close out the Series. "I was not near as good. I threw (Roger) Maris a slow curveball and he hits a pop fly that ends up in the short porch in right field. Mantle then goes back to back with a rope to right center." Simmons is out after allowing three runs in 6 and 1/3. The Yankees cruise behind Bouton to win 8-3 setting up the decisive Game 7 which of course the Redbirds triumph in behind a fatigued Bob Gibson running on fumes.
Simmons still has his World Series ring. "I can't wear it. My fingers are too big. It's a heavy ring. I have it stored in a safety deposit box. I have two sons. I've got to figure out which one gets it. Maybe I'll flip a coin or something."
Simmons won't be in attendance for the festivities commemorating the 50th anniversary of the World Series win over the Yankees. "The Cardinals sent me a letter. I told them I can't make it. I've had three operations on my left hip. One on my right hip. And one on the right knee. I walk around with a cane. I'm 85 and I don't travel." It's unfortunate that Redbird fans won't be able to pay tribute to one of their living legends in person this week. Curt Simmons is a gentleman and a fine representative of the St. Louis Cardinals franchise.
Here is a link to a word association exercise that Simmons was gracious enough to do at the conclusion of our interview:
http://www.vivaelbirdos.com/2014/5/26/5752354/remembering-1964-word-association-with-curt-simmons