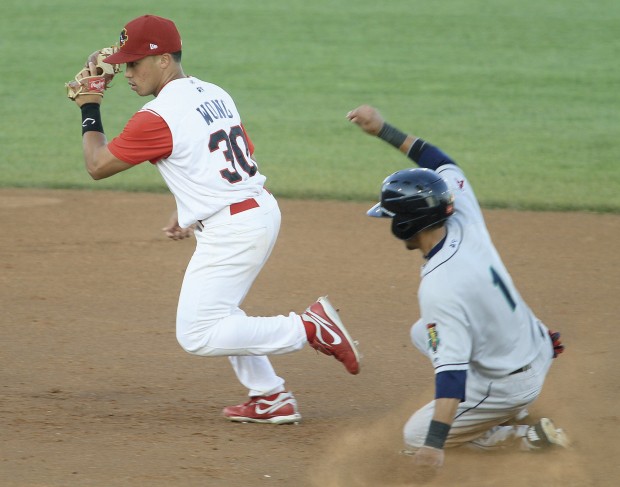 Second base has been a black hole for the Cardinals much of my lifetime. The Redbirds haven't had an All Star second baseman since Tommy Herr in 1985, and thats the only time since division play started the Cardinals have had a All Star second baseman. Since we traded Herr in 1988, St. Louis has had Luis Alicea, Jose Oquendo, Gerinomo Pena, Mike Gallego, DeLino DeShields, Joe McEwing, Fernando Vina, Bo Hart, Miguel Cairo, Tony Womack, Mark Grudzielanek, Aaron Miles, Hector Luna, Ronnie Belliard, Adam Kennedy, Skip Schumaker, Nick Punto, and a few other players start at second. This is coming from a franchise who's had three Hall of Fame 2B in Rogers Hornsby, Frank Frisch, and Red Schoendienst; along with two very good ones in Julian Javier and Herr.
Next year it looks like Daniel Descalso and Tyler Greene will platoon at second base with Skip occasionally starting there. John Mozeliak has said that Schumaker will primarily be an utility outfielder in 2012, though. However, the second base carousel could end soon. In 2011 the Cardinals drafted Hawaiian Kolten Wong with their first round pick. Wong is a 21 year old left handed swinging right handed throwing second baseman. He was regarded as one of the best pure college hitters in the draft last season. He has stolen base ability, plays good defense and has a solid arm.
In three years at the University of Hawaii Wong batted .358 with 47 doubles, 25 home runs, 145 RBI, and was 53 for 71 in stolen base attempts. Wong is a patient hitter, striking out 62 times compared to 103 walks in his college career. Wong was a first team All-WAC all three years he played college ball. Wong led Hawaii in almost every offensive category in 2011 and had 27 multi hit games. He was also named WAC postseason MVP in 2010 when Hawaii won the tournament.
Wong debuted for Low A Quad Cities after signing this summer. In 47 games he posted a .335 BA, .401 OBP, .510 SLG with 5 home runs, 25 RBIs, and 9 stolen bases. Wong was second on the team in OPS after top prospect Oscar Taveras. Quad Cities also was the Midwest League champion last season. I would think Wong will move up to High A Palm Beach next year and could possibly move up to Double A sometime next season. I wouldn't expect Wong to be ready for the big leagues before 2014, but it looks like he could be the long term solution at second base for the St. Louis Cardinals.