To steal Larry's matrix:
Perhaps the Cardinals should go the Cubs route and be dancing partners with the Pirates (in-division) to improve the team.
We know that 2008 is an 'stop-gap' season for the Cardinals.  DeWitt has committed to $110-115 M in payroll verbally, whether that be lip service or not..well, who knows.
Let's say it is an actual comittment.  What the Cardinals need are short term contracts that give them financial freedom for 2009's FA class and to allow the younger crop to take over in 2009 or 2010.
Starting pitching is the immediate concern the Cardinals have. Looking at the current crop, there isn't much other there other than 40-something HOF'ers or 30-ish average starters that are going to be paid for through the nose.  
The next concern is shortstop.  In a world that guys like Orlando Cabrera are making $7 m a year, for quality, you are going to have to pay.
So perhaps, the Cardinals can kill two birds with one stone.  
John Mozeliak was the one doing the wheeling and dealing at the trade deadline for the Cardinals.  He worked out the contract extension for Franklin.  He made the deal for Pineiro and he was the one working on the deal for Matt Morris.
That is what leads me to a trade possibility I only originally offered jokingly.  
The Cardinals trade with the Pirates for Matt Morris and Jack Wilson.  This will more than likely be nothing more than a pure salary dump.  However, if the Cardinals can get the Pirates to take on some of Wilson's payroll, then a prospect or 2 can be moved in return.  Nothing too damning, just whatever it was going to take from the Tigers for Wilson.
Deal Braden Looper and Anthony Reyes.  Looper has value because of his cheap contract, Reyes because of his youth.  They can bring in some mid-level prospects, I would hope.  Something to replenish the farm system in the MIF or perhaps 1 back end starter.
Resign Joel Pineiro.  Mozeliak was the one that went and got him.  I'd imagine he (along with Duncan) saw something in him that they wanted.  Give him a 2 year extension with a 3rd year option.  $6.5 M this year, $8.5 M next, option who knows, $1 M buyout.
Bring back Russ Springer.  Mozeliak was the one that worked out his original contract.  Springer wants to play in St. Louis or retire.  Give him a 1 year contract and keep that 7th, 8th, 9th tandem strong.
Let's look at the grid: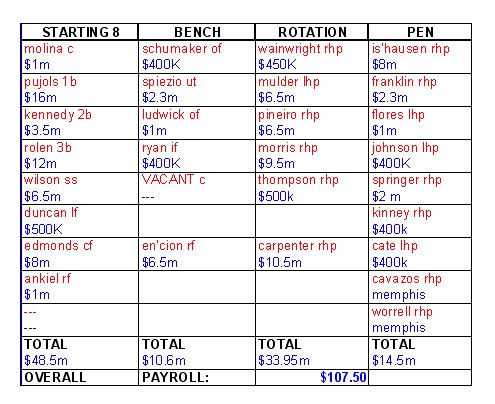 Not exactly sexy, but not much the Cardinals can do in 2008 is.
What this DOES do:

Brings in a starting pitcher who eats innings

Clears payroll for 2009 (Mulder, Morris, Edmonds, Izzy, Springer, Encarnacion = $37 M after buyouts).

Gives Cardinals a moderate offense/great defense SS for the next few years.
If DeWitt's $115 M line is accurate, after signing a backup catcher, there is still $6 M to go out and spend on an OF or pitcher.  There is even more money to spend should Encarnacion choose retirement (even if it is just for 1 year).
I know that Morris' best days are behind him and many people won't want to spend $7 M+ on a SS in 2009 but I think this series of moves can give the Cardinals a) some sembelence of a MLB team in 2008 and b) payroll freedom in 2009 and going forward.
Then again, if they decide to go into full rebuilding mode...this is all moot.