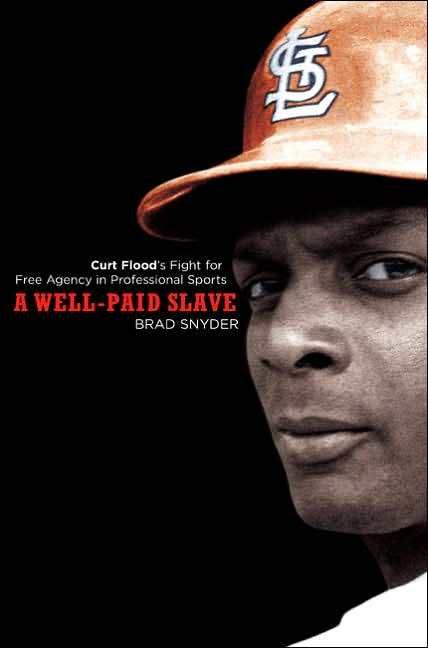 Has anyone picked this up yet?  I saw it in the bookstore today for the first time and couldn't believe I hadn't heard of it.  I wasn't sure if this was a previously released book, so held off on getting it in case it was close to being in paperback.
It was released on October 5th of this year.  The synop is below:

Curt Flood and the landmark Supreme Court case that changed professional sports forever
Upon being traded to the Philadelphia Phillies in 1969, Curt Flood, an All-Star center fielder for the St. Louis Cardinals, wanted nothing more than to stay with St. Louis. But his only options were to report to Philadelphia or retire. Instead, Flood sued Major League Baseball for his freedom, hoping to invalidate the reserve clause in his contract, which bound a player to his team for life. Flood took his lawsuit all the way to the Supreme Court, and though he ultimately lost, his decision to sue cost him his career and a chance at the Hall of Fame. But Flood's place in baseball history, like that of Jackie Robinson's, extends far beyond his accomplishments on the ballfield. Just three years later, the era of free agency that all professional athletes enjoy today became a reality.
In A Well-Paid Slave, the first extended treatment of Flood and his lawsuit, Brad Snyder examines this long-misunderstood case and its impact on professional sports. He reveals the twisted logic and behind-the-scenes vote switching behind the court's decision and explains Flood's decision to sue in the context of his experiences during the civil rights movement. Astutely and dramatically told, A Well-Paid Slave will appeal broadly to fans of sports history, legal affairs, and American culture.
I've long believed that Curt Flood deserves to be in the HOF.  If Jackie Robinson can have his number retired all throughout baseball for breaking the color barrier, Curt Flood can be inducted into the HOF for tearing down the reserve clause.  The fact that every current MLB player doesn't petition every 2 years for the Veteran's Comittee to put Flood in is a disgrace.  
Anyways, thought you all might be interested.  The image on the dust jacket is amazing.